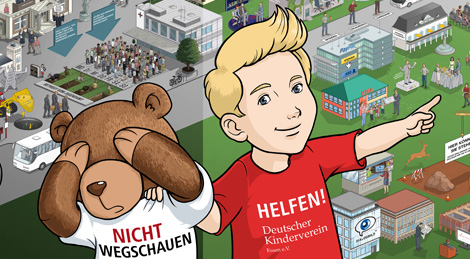 A dialogue picture brings child abuse up close
Utilising a special form of visualisation, Deutscher Kinderverein e.V. is seeking to shake things up and focus attention on the subject of child abuse in Germany by deliberately using graphic depictions. It is to this end that the agency Dialogbild GmbH in Hamburg together with the Deutscher Kinderverein have developed a dialogue picture revealing a stark contrast between the current situation of many children in our country and the desired target situation along the lines of that advocated by Kinderverein. The basis and template for the dialogue picture was provided by a book authored by forensic physicians Prof. Dr. Michael Tsokos and Dr. Saskia Etzold (Guddat) entitled "Germany abuses its children".
"The dialogue picture without a doubt reveals the dramatic situation surrounding child abuse in Germany in a unique way," according to Rainer Rettinger, Managing Director of Kinderverein. "Viewer are shocked by it because it presents facts and figures in a vivid manner, documenting that maltreatment is not an isolated incident. There is also an interactive version of the dialogue picture: zum Dialogbild. Users can zoom in on their PCs or tablets to read explanatory texts (click on the button "Show content" in the bottom right-hand corner, then click on the individual numbering). On the left-hand side of the picture, news messages are processed, like ones on a young mother from Berlin who puts her new-born baby in a rubbish bin, children who are beaten or neglected and a Youth Welfare Office employee whose hope and desire is to save children like a knight in shining armour, only to find that he has a broken lance and a lame horse.